Mushroom Soup
By
Lorie
on
April 6, 2015
The photos below remind me of the day I made this mushroom soup. I remember one moment vividly – looking at the clock, seeing it was 4:30 pm, and thinking, "Really? How did that happen?" I still needed to take a shower, give E a bath, clean up the dishes and counters in the kitchen, pick up E's "nap station" (blankets and pillows) off the living room floor along with some toys, and finish the soup that I started prepping at ten in the morning. It was a warm afternoon so I also wanted to go for a walk. In my mind, all of these were to be done in the next hour and we would just be hanging out while waiting for George to come home from work.
It didn't quite work out the way I thought it should. E and I took our respective bath and shower, had a snack, then headed outside for a walk. We were still playing in the driveway when George got home. I finished up the soup while George played with E and gave her dinner. And the cleanup had to wait until later in the evening. It was one of those funny days, when you feel like you've been going all day but nothing seems to be getting done. Sometimes it can get frustrating but that day what I remember was more of a scratch-my-head/where-did-the-time-go/oh-well mood.
—————
I've been wanting to add another type of soup in our regular meal rotation and it hasn't been easy (because picky husband). With this broth-based mushroom soup, I finally found something that we really enjoy. It's flavorful and loaded with good stuff. It's light but adding pasta and cheese makes it a fuller meal. The recipe is flexible and I can imagine it being good with rice instead of pasta or with different kinds of vegetable and herbs.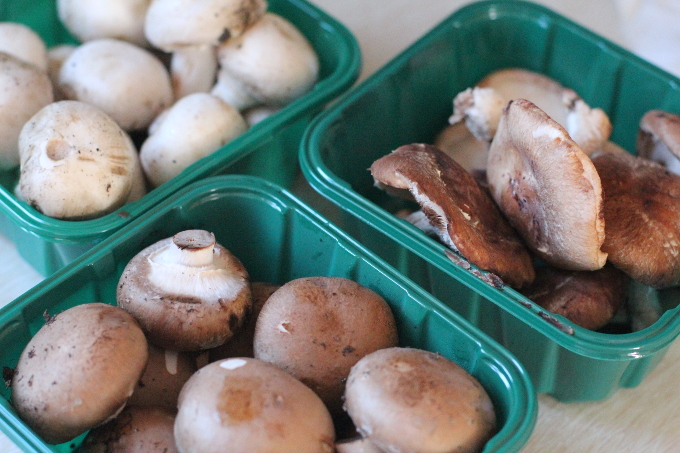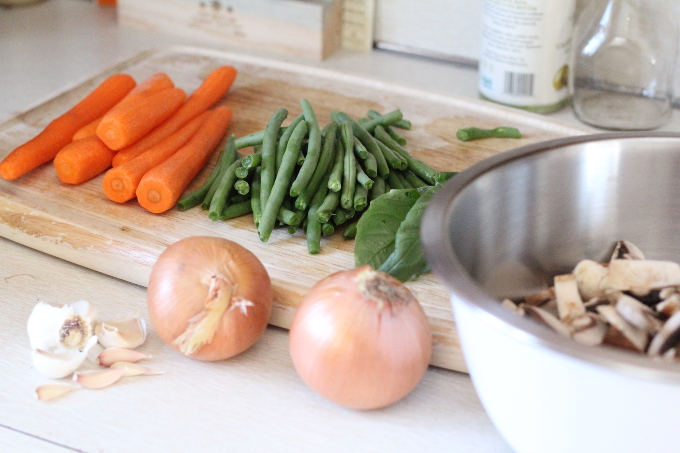 Mushroom Soup
Servings: 6-8
1 tbsp. olive + 1 tbsp. butter
2 small onions, diced
5 cloves garlic, minced
1 to 1.5 lbs. of mushroom, sliced (I use a mix of white, brown and shiitake mushrooms)
5 carrots, diced
salt and pepper, to taste
1/2 cup fresh basil, julienned
8 cups of liquid (I combine chicken stock and water)
1/2 lb. green beans,  sliced
8 oz. whole wheat rotini, cooked according to package instructions **
mild cheddar cheese, sliced thin or shredded **
——
– Heat olive oil and butter in a large pot over medium heat. Add onion and garlic and cook for about 5 minutes.
– Add mushroom, carrots, salt and pepper, stirring occasionally, until the mushrooms have given off their liquid and browned, about 15 minutes.
– Add broth/water and basil. Bring to a boil, then cover and simmer for 15 minutes over low heat.
– Add green beans and simmer for another 15 minutes. Add more salt and pepper to taste.
——
** Cook pasta separately and add to bowl as you serve. This prevents pasta from getting overcooked and breaking up in the soup when reheating leftovers (we cook with 2 to 3 meals in mind).
** Serve with thin slices of cheese over the soup – it enhances the flavor of the soup. I also tried with Parmesan, which wasn't bad but not as good as the mild cheddar.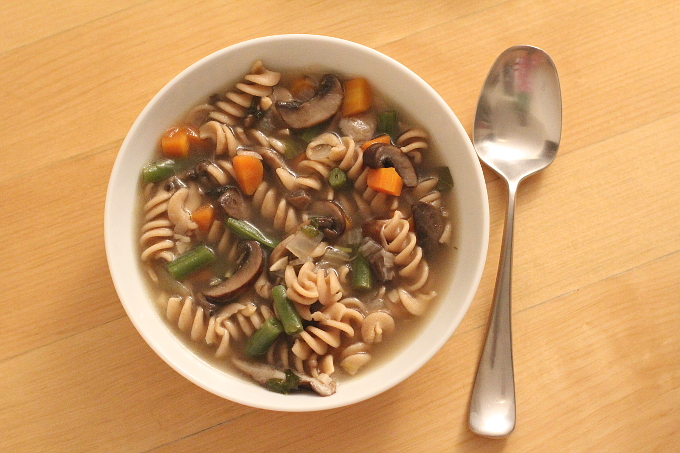 Posted in
|
Tagged with
|