Making Pelmeni
By
Lorie
on
February 19, 2013
We spent a Sunday, a few weeks ago, at my in-laws' making pelmeni, Russian dumplings. It was a time-consuming dish but enjoyable to make in the company of loved ones on a lazy weekend afternoon. Mama was the brains behind the operation, with the aid of this book…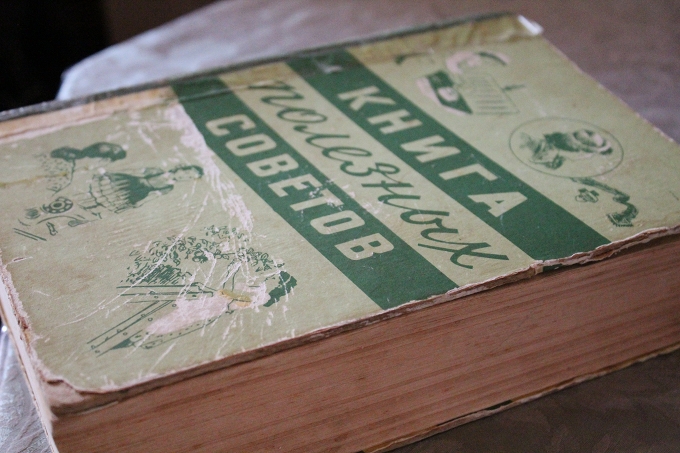 Book of Good Advice (I love old books!)

Mama talked about making dumplings as a little girl with her mom and dad. She and I shared stories of how life was in our old countries, and we all just talked about whatever the mood struck.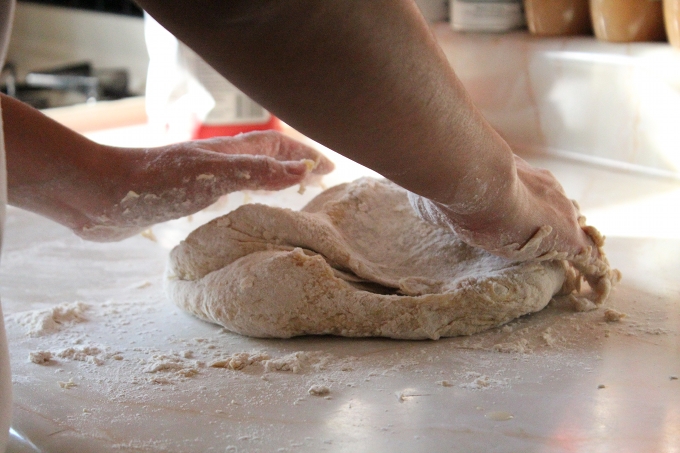 It was the first time I worked with dough and really enjoyed myself :) This is the first part of the dish because you want the dough to sit for a while before making the dumplings.
Dough:
3 cups flour (we used a mix of all-purpose and whole wheat)
2 large eggs
1/2 cup milk
3/4 tsp. salt
– Start by mixing in a bowl. Use a clean, well-floured surface to continue kneading.
– Add more flour to the dough if it still looks moist or sticky. (You might need to do this a couple of times. This is when Mama says, "You will learn with experience.")
I've watched enough Food Network to pretend I can knead. Use the heel of your hands and your weight to press down on the dough, fold it over, and repeat several times until it's firm and looks uniform. Let it sit covered by a bowl while working on the filling.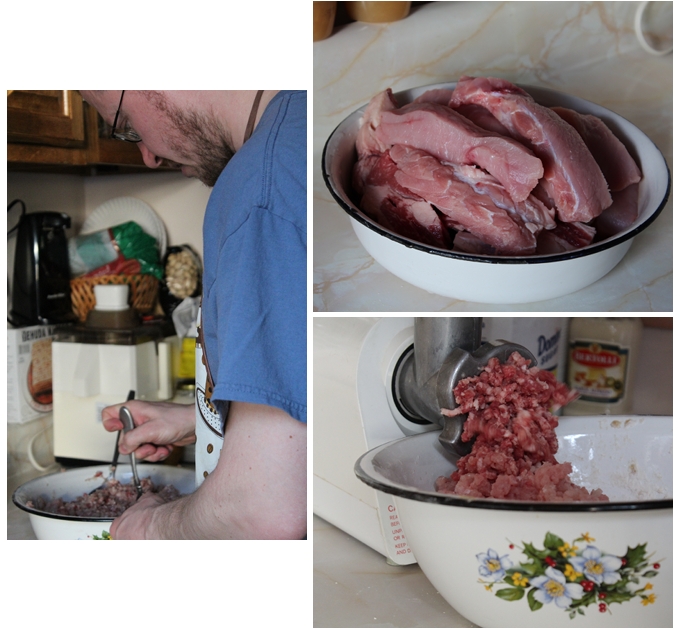 Filling:
3 lbs. of meat
1 large onion
salt and pepper, to taste
– Use a meat grinder for both meat and onion. Use a spoon to mix all ingredients well.
We used half pork and half beef, the traditional combination I was told. You can use different kinds of meat, like lamb, chicken, or turkey, according to your preference. You can certainly buy ground meat but Mr. S and Mama would say it's not the same ;) Also, we didn't want the meat to be too lean, for flavor. Put the mixture in the fridge while preparing for the next step.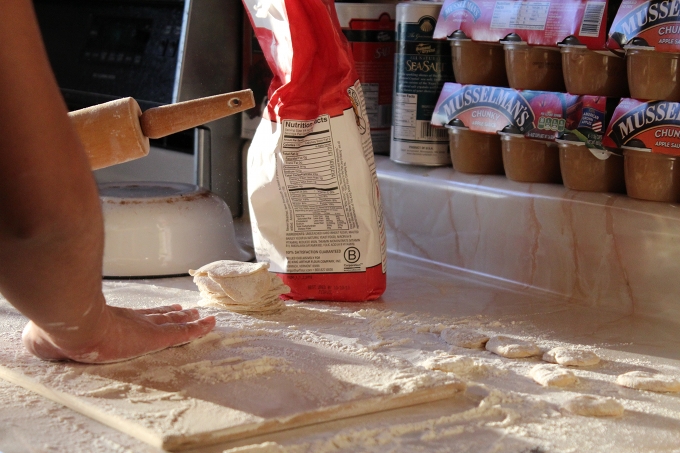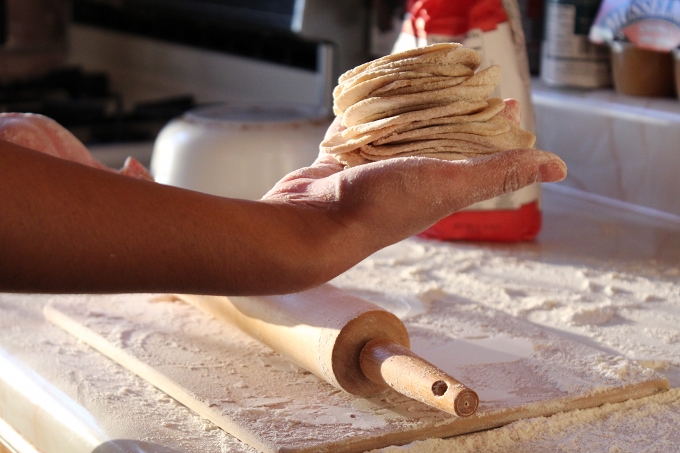 Dumpling wrappers:
Writing this now, I realized that there are no photos for a step-by-step guide. I will try my best to give instructions.
– Pinch off about a fistful-sized ball off the dough. Keep the rest of the dough covered while working on this portion.
– Roll the ball between your hands to make a long, thin rod that's approximately 3/4-inch in diameter.
– Cut the dough with a knife to about 1/2-inch pieces.
– Press the pieces, cut-side down, onto a floured, flat surface. Turn each piece over and press again.
– Flatten the dough pieces using a rolling pin.
(I know, it's pretty confusing. This post is to be updated with photos when we make pelmeni again.)
Make sure both sides of the wrappers are well-floured so they don't stick to each other. The wrappers can vary in size and thickness depending on how you like the dumplings. We found that we liked the smaller bite-sized ones. Also, if the wrappers are too thin, it might tear while putting the filling in or while cooking.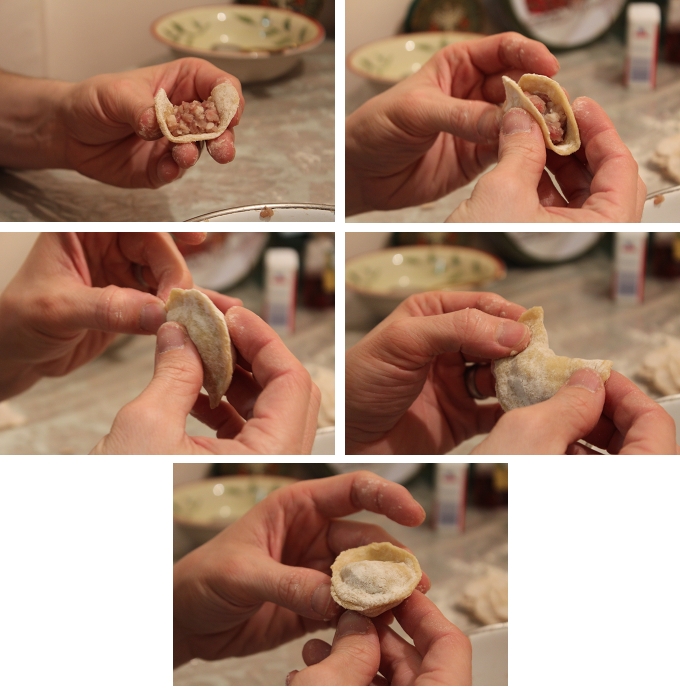 Assembling the pelmenis:
– Take a portion of the filling out and keep the rest in the fridge.
– The amount of filling placed in the wrapper will be an estimate, depending on how big the wrappers are and how meaty you want the dumplings.
– Dab water on the edge of the wrapper to seal. Please see photos above on how to form the dumplings.
– Place dumplings on a floured board. Once you fill the board, put it in the freezer. When the dumplings harden, move them to a container or plastic bag for storage.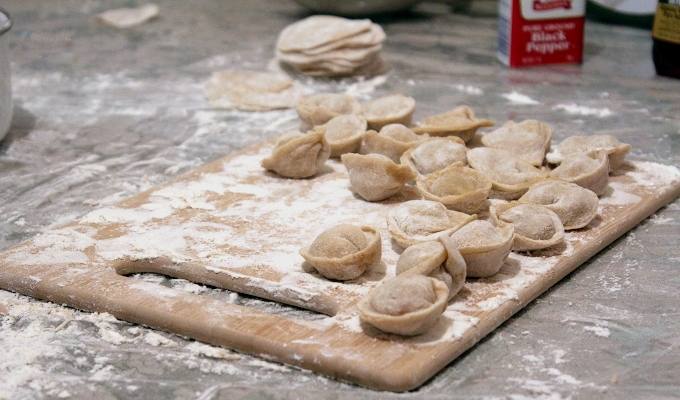 It's important to harden the dumplings first so that they don't stick to each other in storage. This recipe yielded approximately 130 dumplings. They can last in the freezer for up to six months. You can also store the filling and dough in the fridge and only make dumplings when you want to. Between the three of us, we were able to divide and conquer, and had our pelmeni dinner as a reward.
Posted in
|
Tagged with
|