A Muffin Experiment
By
Lorie
on
January 21, 2015
I got the baking bug last week, thus muffins were made. While looking for a recipe, I found myself reading up on cake and muffin basics that I've been meaning to look up. This blog post provides a good summary for cake basics and Google is your friend for more in-depth info.
I learned that a traditional butter cake typically has these ingredients – flour, sugar, eggs, fat, liquid, leavening, and flavor extracts. A quick guideline for ingredient ratios:
1 cup of flour – 1 tsp. baking powder – 1/4 tsp. baking soda – 1/4 tsp. salt
2 cups of flour – 1 cup sugar – 2 eggs – 1/2 cup butter – 1/2 cup milk
In comparison, muffins use more flour and liquid, and less sugar and fat. Cakes use the creaming method. With muffins, the dry and wet ingredients are mixed separately, then roughly mixed together. The differences in ingredient ratios and methods affect the texture (and taste) of the baked product. Muffins are usually drier and slightly denser than cakes. Cakes are desserts while muffins are a form of quick bread that can be sweet or savory.
With this new knowledge, I thought I'd try making my own recipe haha. I made two batches of orange cranberry muffins –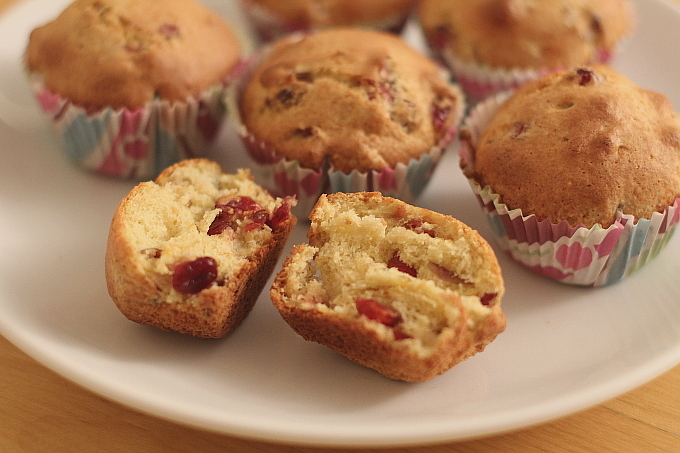 version 1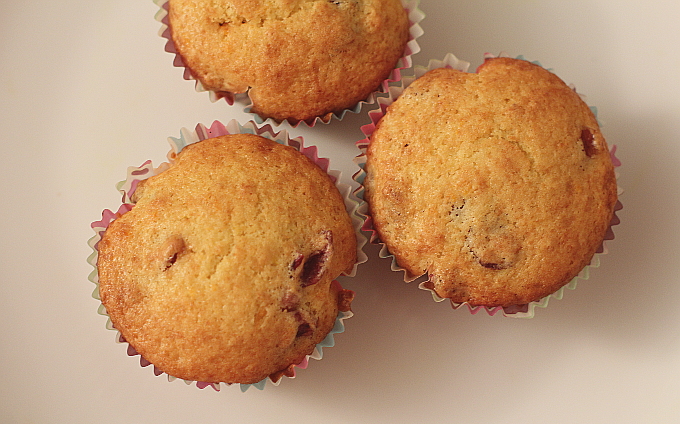 version 2
Orange Cranberry Muffin
(version 1)
Yields: 6 muffinsIngredients:
1 cup all-purpose flour
1 tsp. baking powder
1/4 tsp. baking soda
1/4 tsp. salt
1 egg
1/3 cup sugar
1/4 cup vegetable oil
1/3 cup orange juice
1/2 tsp. orange zest
1/2 cup dried cranberries **
(version 2)
Yields: 8 muffins
Ingredients:
1 cup all-purpose flour
1 tsp. baking powder
1/4 tsp. baking soda
1/4 tsp. salt
1 egg
1/3 cup sugar
1/4 cup unsalted butter, melted
1/2 cup orange juice
1 tsp. orange zest
1/2 cup dried cranberries **
** I soaked the dried cranberries in 1/2 cup of water with 1 tbsp. sugar for 1-2 hours on the counter. This rehydrated and plumped up the berries.
– Preheat oven to 400F. Grease or line muffin tin.
– Combine flour, baking powder, baking soda, and salt in a bowl.
– Beat egg, sugar, oil (or butter), orange juice and zest in a separate bowl.
– Add drained cranberries to flour mixture first. Mix to coat berries with flour.
– Add wet ingredients. Stir until just combined.
– Spoon into muffin tin. Fill about 3/4 full.
– Bake for 15-20 minutes, until a toothpick inserted comes out clean.
Results: Three things I made different: vegetable oil for version 1 vs. butter for version 2, and more juice and more zest in version 2. I ended up with more muffins in version 2. George prefers the first batch which came out crusty and more bready in texture. The muffins from the second batch were more like cupcakes, flatter and smoother at the top, more moist and has a softer texture. I have a slight preference for version 2 since I do love my cakes. In terms of flavor, there was no significant difference in taste.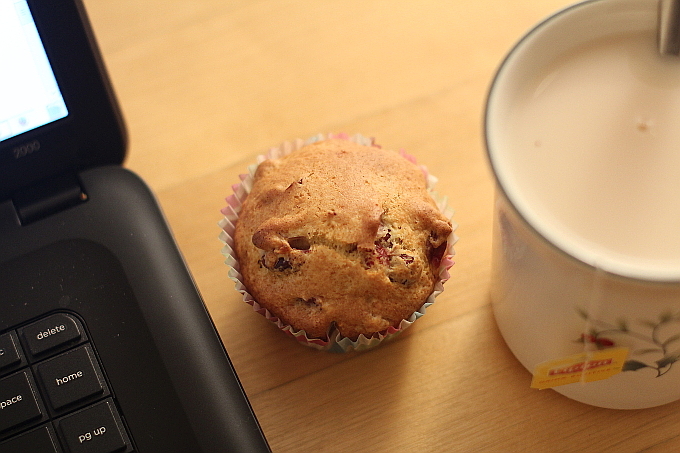 I enjoyed this little muffin experiment, the process and the results :) We shall have another one when the mood and inspiration strikes.
Posted in
|
Tagged with
|