hello 2015
By
Lorie
on
January 6, 2015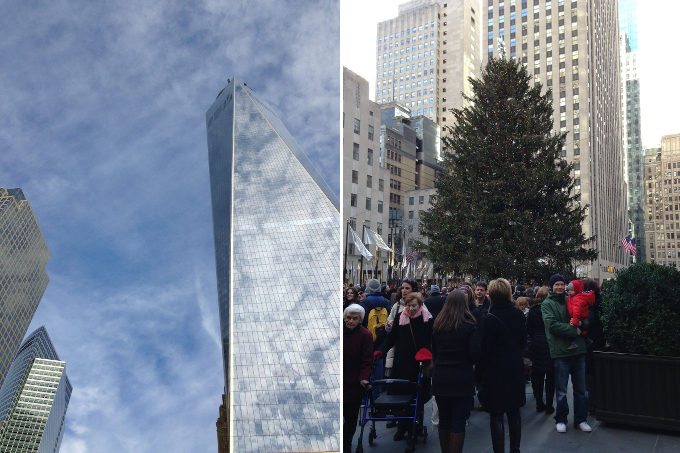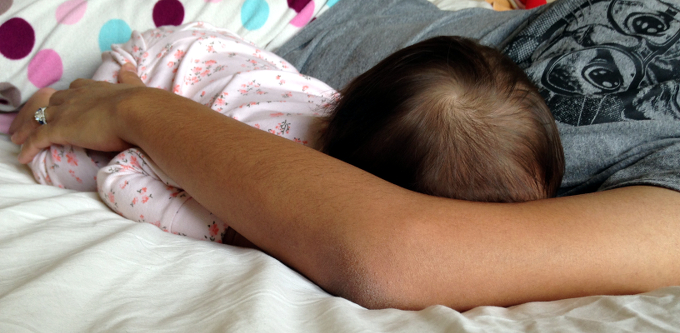 Freedom Tower from the West Side Hwy. / Rockefeller Center tree / my sick baby
—————
And just like that it's 2015. Happy new year! Personally, I'm relieved that the holiday festivities are over. I can't remember a more stressful and tiring holiday season ever. It was great to see our family and friends but the 5 to 8-hour trip to and from NJ/NY and all that it entails is taxing on us. There's the usual stuff – packing/unpacking multiple times, the occasional, mostly minor conflicts, and being away from home. I'm a homebody by nature so being away from the comforts and quiet of my own space is hard for me. We've also had a recent change in our family, though it is not my story to tell.
E got sick during the later half of the trip. She had low energy and was very restless, which resulted in lots of cuddling and little sleep for everyone. After we got home, she was already recovering, but was still clingy and a big grumpball. This was the first time our baby girl got sick and we're just relieved she's okay now.
On a more positive note, I was happy to see that E is noticeably getting more comfortable when we visited our families' houses. With this last trip, it seemed like she needed less time to adjust. We went to see a friend with two young children, and since E never interacted with other children before, we thought she'd be shy and hesitant at first. But she saw them and was like, "Oh, hey, little people like me!" Right away she was in the thick of things, running and following the older kids, playing with their toys, and being her usual troublemaking self. It was so funny :)
—————
I've given up on new year's resolutions some time ago. Instead the beginning of the year has become a time for introspection. A few days ago, I found myself thinking of my first couple of years in the US. It was a tough time. I described it to George as my "dark cloud hanging over my head" phase. I remember being obsessed with the concept of happiness – what is happiness? What are things that make me happy? What should I do to become happy? Eventually I came out of that state, and I accepted that it was something I had to go through to get me to where I am now.
Around the same time as my new year's musings, I came across this quote. It made sense to me so I'm keeping it here to share and so that I'll always remember.
I actually attack the concept of happiness. The idea that—I don't mind people being happy—but the idea that everything we do is part of the pursuit of happiness seems to me a really dangerous idea and has led to a contemporary disease in Western society, which is fear of sadness. It's a really odd thing that we're now seeing people saying "write down three things that made you happy today before you go to sleep" and "cheer up" and "happiness is our birthright" and so on. We're kind of teaching our kids that happiness is the default position. It's rubbish. Wholeness is what we ought to be striving for and part of that is sadness, disappointment, frustration, failure; all of those things which make us who we are. Happiness and victory and fulfilment are nice little things that also happen to us, but they don't teach us much. Everyone says we grow through pain and then as soon as they experience pain they say, "Quick! Move on! Cheer up!" I'd like just for a year to have a moratorium on the word "happiness" and to replace it with the word "wholeness." Ask yourself, "Is this contributing to my wholeness?" and if you're having a bad day, it is.

– Hugh Mackay
Posted in
|
Tagged with
|